Welcome to a haven of peace and calm at the Cactus Festival site!
Do you want to take a relaxing break in between two concerts? At Cactus Oasis, your favorite hang-out spot on Saturday and Sunday, that's not a probem! Snuggle up on the banks of the Lake of Love in one of our hammocks, enjoy a drink on the sunny terrace to completely unwind. Meanwhile, the kids can romp on Bolwerk's imaginative playground. Join the experience and have fun at Oasis!
Discover the installations at Cactus Oasis:
The Rope
With rope and an overdose of imagination, you can make anything. Den Draad proves this again and again with its insane installations out of wire.
Strong Man
Untamed and brutal, the strong man occasionally leaves his cage to pull a long line of carts with screaming children.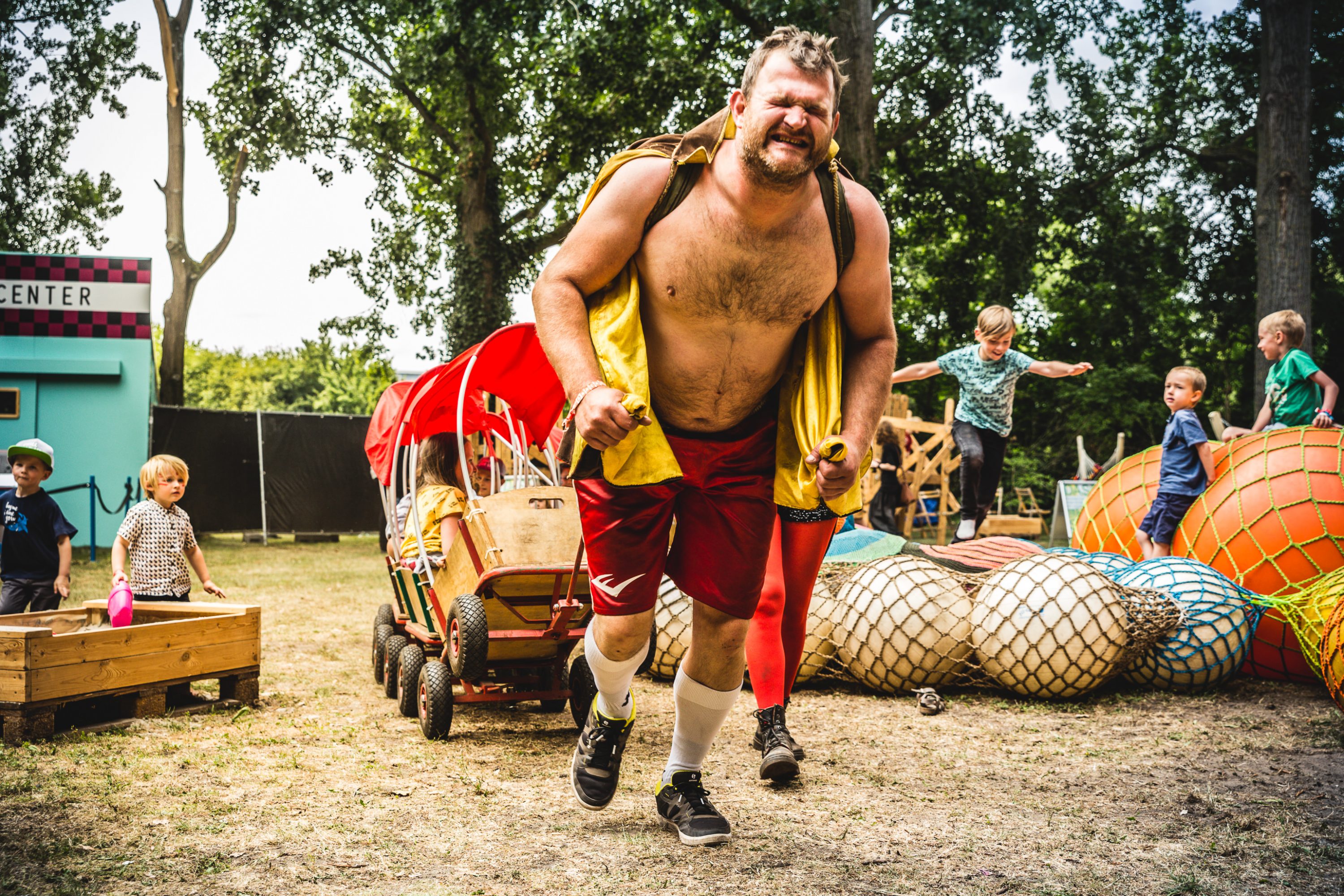 Woeshzone
An animated open arena where participants can practice to their heart's content. Every half hour you can also attend a micro-circus workshop.
Mammoet Gerard
Handcrafted from acacia and oak, this 4-meter-long and 2.6-meter-high children's friend features a stainless steel slider. An embodiment of creativity, this showpiece gives children tremendous playtime fun.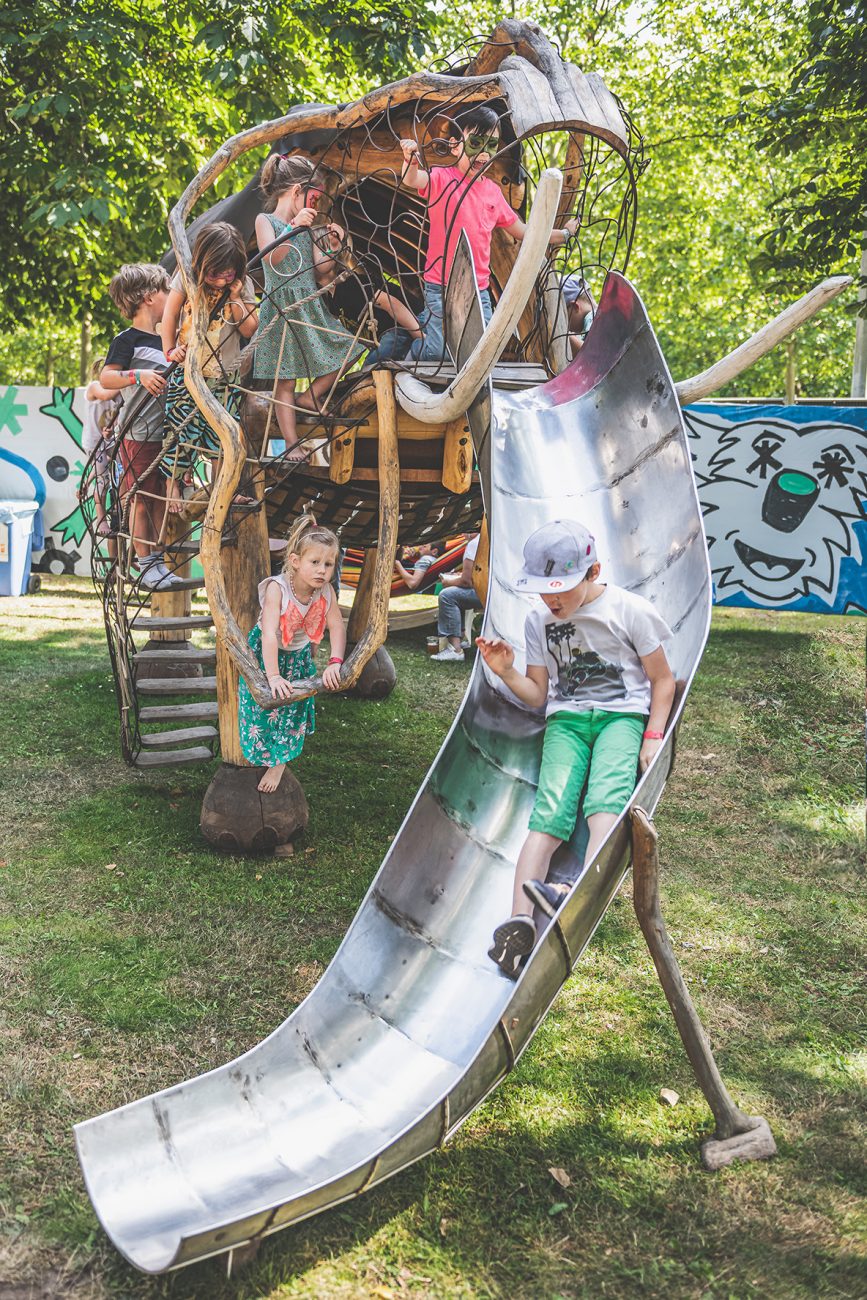 Creatool
On your marks, ready, set GO! Have you ever dreamed of racing down a mega-size ramp as a real race driver? Now's your chance to compete with your own soap box!
Uncles & Aunties
Your hosts on Saturday: Uncle Luc and Uncle Luc! Your hosts on Sunday Auntie An and Auntie An! They provide an instant feeling of home, after all, aren't we at Cactus one big family?
The Canvas
A large, mobile canvas will be rolled into Cactus Oasis. Bring out your artistic talent and help paint an impression of the festival.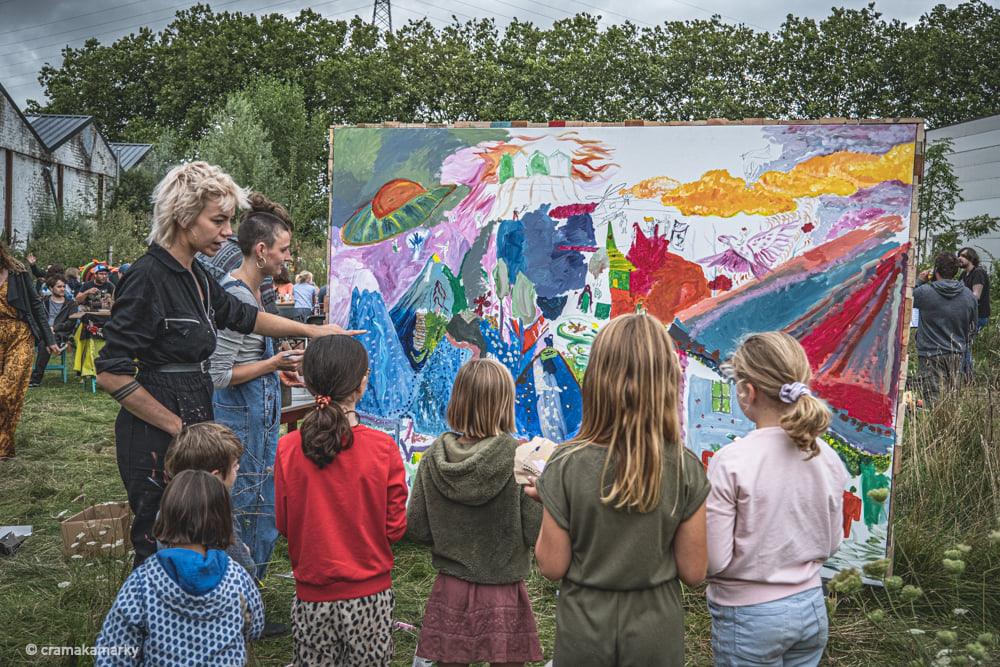 Wellness
Antje van de Knedrij is a professional masseuse who loves an animated massage for both young and old. From time to time she brings out her massage train.
In collaboration with Bolwerk.
Sharona
This crazy obstacle course was created during lockdown as a coronaproof alternative. It quickly became a big favorite of the public, however, with or without measures!
Woesh
Forget about Lego and Playmobil! Meet this next level building carpet for toddlers, on which children and parents, can create the craziest constructions with natural materials.
The Construction Site
At this playground, you need to roll up your sleeves! There is plenty to do: assembling, turning screws, sanding and above all a lot of playing. The Construction Site is a fantasy play, a theater in which the children play a leading role, as well as a pure playground experience for everyone who likes to have fun.
Julie's Mobelle
In need of some me-time at Cactus Festival? Enjoy a relaxing massage at Julie's Mobelle. Or would you prefer a refreshing facial with a mineral products by Bella Pierre? Choose your festival look and shine bright like a diamond!
The Canvas
A large mobile canvas is rolled into Cactus Oasis. Children and parents paint a collective work of art under supervision.
Coco Ice Cream
Ice cream and sorbet for kids & foodies. Not everyday seasonings, made with love. You taste that!
Weave & Wonder
This installation encourages encounters between children and adults. They all work together on the same piece of art: a huge tapestry.
Dance floor hosted by BLVRD
At nightfall, the Cabane Gitane is opened up, a handy caravan with the appearance of a cozy living room, which will serve as a DJ booth. Together with the Bruges youth magazine BLVRD, we are inviting a fine collection of DJ's and selectors to transform the Oasis terrace into a sultry dance floor on Saturday and Sunday night. Disco, house, hip-hop, global sounds: anything goes, as long as it moves your feet!
Neoso
19:00-20:30
Follow Neoso in his quest for the twilight zone of electronic music. From rolling percussion to up-tempo beats and melancholic tunes that sound like pure energy.
Natv:men
20:30-22:30
From Brussels' Kiosk Radio, Ghent duo Natv:Men are launching their new musical discoveries into the radio waves. Henry and Tola are constantly in search of tropical rhythms, minimal synths, psychedelic soul and broken beats.
Mankiyan
22:30-00:30
Mankiyan is one of the Belgian revelations of 2023. With her ear for bass- and rhythm-heavy records, she proves her strength as a selector who always knows how to find the right track for the moment, courtesy of the inexhaustible resource of the internet. Mankiyan is a regular resident at Kiosk Radio, where she infuses her dubstep sets with experiment and the occasional grimey dancehall guilty pleasure. An adventurous and forward pushing DJ with an addictively dark and mysterious sound.
Listen here
Harde Smart
19:00-20:30
Ghent-based DJ collective Harde Smart (No Sleep Ritchy & Micha Marva) has a clear goal: to restore obscure listening songs of yesteryear to their former glory. From the dusty crates of '99% utter crap tunes', they extract the hidden gems, raw breaks, and crazy psychedelic wordplay of Dutch-language music from the 60s-70s-80s, which they lustily cut up in their DJ sets and mixtapes.
Listen here
Jon Slo B2B Sanne De Muynck
20:30-22:30
Clubsteppin residents Jon Slo and Sanne De Muynck are playing back to back in our cosy caravan.
Lilihell
22:30-00:30
Since 2014, Lilihell has been travelling through the broad spectrum of club music. From footwork, beakbeat and rave to hard-hitting bass and ghettohouse, the Brussels-based DJ does not shy away from switching between recognisable classics and the darker crevices of electronic music, without losing sight of her roots as a hip-hop DJ. Expect a high-energy set where the BPMs soar.
Listen here